Hey photographer friends! If you've been to one of our workshops or heard us speak, you've probably already heard about how we like to give our clients fun little gifts and surprises as a way to thank them for booking a shoot with us. If our clients are trusting us enough to book a boudoir shoot with our studio, we want to be sure that we are taking care of them and that we tell them thank you! We are a huge proponent of handwritten thank you cards (we order our custom cards from Bay Photo). And then we also like to give another something small as a surprise – right now we're giving away bonus wallet images. In the past, though, we have also given away fabulous custom lipglosses that we had made with our logo. This was a really fun concept, and it's something we've been thinking about doing again.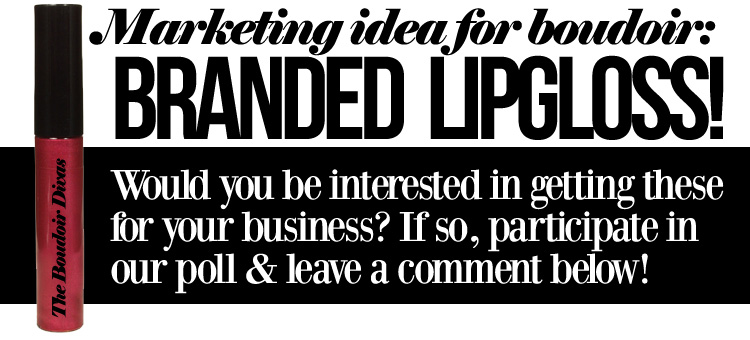 So we wanted to throw out an informal poll to all of you out there….. we have an awesome company that we are thinking of ordering these lipglosses through, and we wanted to get some feedback from all of you photographers to see if this is something you would be interested in ordering. So leave a comment below and let us know your thoughts!
Please tell us:
1) How many lipglosses would you want to order for the year,
and
2) Any other comments about this idea!
Once we hear from you, we'll let you know more info about the amazing makeup company that can get these lipglosses for you!
Thanks! xoxo, The Divas