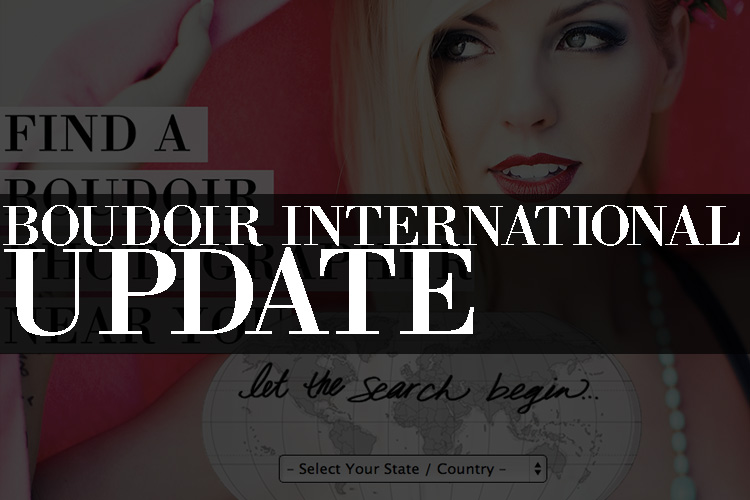 Hi Guys!
Good things happening around here that we wanted to fill you in on. First off – some of you BI members who did the year-long subscription, well… your year may be up! And if so, you will be getting a personalized email from us soon. But don't be bummed about that because we have exciting news!! Those of you that are month to month, no worries, you are good & won't be getting an email from us, however you may want to considering going yearly, because it's SUCH a better deal! (If you want to go yearly, just email us: info@BoudoirInternational.com)
NEW PRICING
We wanted to make sure you knew that it's now even
MORE AFFORDABLE
to sign up for a full year –
it's only $150!
That's like less than getting 2 fancy coffees at Starbucks each week.

WE WANNA FEATURE YOU
Also, we want YOU to be featured on the
Boudoir International BLOG!!!!
Once you sign up for a yearly membership, then we want to make sure we give you a little love in return, and get you hooked up with a "Featured Member" post on the blog.
The goal of the
BI BLOG
is to get potential boudoir clients more invested and excited about an experience, and then start looking for someone in their area to be their fit as a boudoir photographer! Hopefully that's you!
You probably already know that we've been advertising on Green Wedding Shoes for the past year. But did you know that we are also starting to run campaigns with Google AdWords? We have been doing this for the past couple of months and we are definitely seeing the benefits, as our site stats continue to climb! Our goal is to get more eyes on this site, and more eyes on YOUR PROFILE!
MEDIA KIT

If you haven't already seen the updated media kit, take a few minutes to
read it over!
QUESTIONS?
Shoot Sarah (she is our fabulous Associate Editor for Boudoir International) an email if you have questions about anything here, she is at info@boudoirinternational.com! Also, if you want to update any of your info on your profile page or send us new images for your gallery, you can do that by just emailing them to Sarah directly as well.
THANK YOU
Thanks again for joining us on this journey… Boudoir Photographers, UNITE! xoxo, Marissa & Kimberlee